The 12 Marketing Tips Calendar
Having a website is great, in fact it's fantastic, but if you don't get any visitors you're missing out, so here are 12 Marketing Tips to try.  I call this the 12 Month Marketing Plan.
I decided to put these 12 marketing tips into a Calendar format, so you only need to try one each month. If you do one Tip in one month, and you'd like to do another, go for it! Remember, the more you water your garden, the more it will grow. The more you tend for, talk, and write about your website, the more 'eyes' will see your link. I talk you through the 12 Marketing Tips Calendar in the quick video below.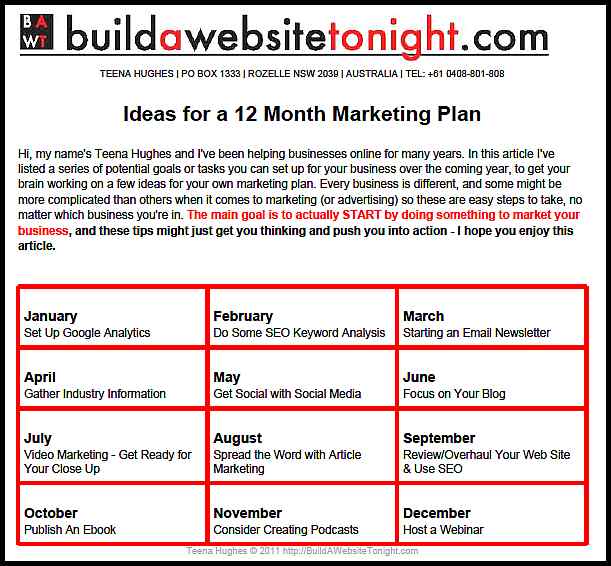 The 12 Marketing Tips Video
View on Youtube:  http://youtu.be/hNoE0CwrO4A
The marketing ideas on the 12 Marketing Tips Calendar PDF are:
January – Set Up Google Analytics
February – Do Some SEO Keyword Analysis
March – Starting an Email Newsletter
April – Gather Industry Information to share
May – Get Social with Social Media
June – Focus on Your Blog
July – Video Marketing
August – Spread the Word with Article Marketing
September – Review/Overhaul Your Web Site & Use SEO
October – Publish An Ebook
November – Consider Creating Podcasts
December – Host a Webinar
I hope you've enjoyed this edition of YOUR BIZ HOT TIPS, please do leave a message below or on Twitter, Facebook etc – thanks in advance!
If you are a Subscriber to my Newsletter, you will have received the 12 Marketing Tips PDF attached to the email. If you'd like to receive the PDF, sign up for the Newsletter then email me and ask for a copy – I'll gladly email it to you
Like this? Sign up today for Your Biz Hot Tips Newsletter >> More marketing tips
Download Article Post to PDF
Tweet