In this edition of Your Biz Hot Tips, I give you a 33 website and SEO tips freebie, answer a burning question, and provide some interesting links

I'm back from my holiday in Paris where I had a fantastic time catching up with friends and clients … until I got laryngitis – so I do apologise there was no video for you while I was away.
Now I'm back, my voice is back, and I've got tips to share with you – woohoo!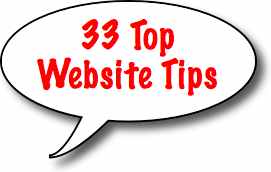 If you haven't signed up for my 33 Website and SEO Tips and you're in a hurry to LEARN STUFF, I'm attaching my PDF (to the email sent out to my Your Biz Hot Tips Subscribers) to help you get started with tweaking and streamlining your website and SEO. Let me know which tips you like best!

No time to read a PDF? If you'd prefer to get ONE tip per day in your inbox, pop over and sign up here:
"What happens if I delete my Home page on my website?"
Here are a few recent blog posts:

Next update I have some NEW EASY WAYS to get some SEO backlinks to your website – stay tuned!
Got any questions or requests, let me know by replying to this email – I look forward to hearing from you!
Have a great week! Until next time, from my laptop to your computer,
Teena Hughes – author of YOUR IZ HOT TIPS

If you'd like to read other newsletters, pop over to the Archive:
http://buildawebsitetonight.com/your-biz-hot-tips-archive.html
This Edition was: 33 Website and SEO Tips
Download Article Post to PDF
Tweet