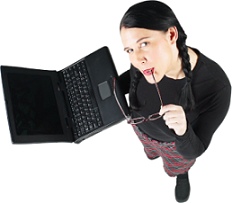 If I asked you, "Do you keep track of sales and customers?" what would you say? If you had to go back to customers for any reason, would you be able to?
I ask you this question today because I've just had an interesting experience and thought it was worth passing on.
My question to you is:
Do you keep track of sales and customers?
So – did you answer YES or NO … or is there something inbetween, in that 'grey' area, which is neither Yes nor No? My next question after that one is simple, no matter what your response is, "Why?"
Let me tell you a little story which unfolded for me over the past week …
I had purchased a WordPress Plugin which I had installed on several websites, and over the past month I'd vaguely noticed that it didn't seem to be working. This week I decided to look a bit closer, make some changes, and test it. I'm ashamed to admit that this software hadn't been working since July last year, and that I should have noticed it earlier.
So I did what made sense to me – after testing it, I popped over to the website where I'd bought the plugin to see if there was a forum or FAQs where I might find an answer. What I found instead was a bit of a shock – I found a Japanese website which had nothing to do with the plugin. Hmm, this needed more investigating. I did some research online, but all references to the website URL related to the plugin, but none of the links went to the plugin page, only the Japanese website.
I found the receipt in my emails, and found another domain name and email name for the woman I bought it from; I emailed her and asked whether the Japanese company would be taking over support of the plugin, as it no longer worked.
So – going back to my question, "Do you keep track of sales and customers?"
I explained to the seller of the plugin that I thought perhaps that there might be a newer version and that I'd need to update, and got the reply, "No – there's absolutely nothing wrong with the plugin. And I don't have any idea who bought it – so I can't go back to them with any information anyway."
Now I'm not sure what your business practices are, but when you have sales online you always have a record, whether it's via Paypal, credit card etc, and you can export all of this information as a spreadsheet. This can then be used to sort your products by name etc, and can help you create a mailing list of  people who purchased your products.
A day or so later I received another email to let me know they had now 'tested' the plugin and I was right (although they didn't put it in those words) – the plugin definitely did not work with the latest version of WordPress. The plugin seller suggested that I contact her "in about a month" to see if she had (a) found a software developer to work on it and (b) managed to fix it, whether as an updated plugin or some other option. So – the onus was on me (the purchaser) to chase up the seller – hmmm now that's an interesting business process indeed. I'm feeling less and less confident about this person at this point.
Today I log into one of my sites which is using this plugin, and am surprised to see that the plugin's working again – the first time since July last year. So – one part of my enquiry was now solved and I thankfully didn't have to go back to the seller.
Part 2 – Tricked out of a domain name by fake accusations
In regard to the new Japanese owners of her plugin website I learned this from this lady's email, "It was a scam – they sent me a DMCA letter saying they owned the copyright to the domain, and unless I transferred it to them immediately I'd have to pay a huge fine of thousands of dollars. So I did it straight away. Then I found out later it was a scam by looking on the internet."
Now I don't know about you, but I would've (a) done some research online to see if this company was mentioned anywhere for shady dealings etc and (b) advised an internet authority of this shady deal. I also would have sought legal advice as to the validity of their "demand" letter before transferring ownership of a domain name. (I do know a little bit about this – I have had this happen to me, and in my case the other company was a huge worldwide conglomerate whose name I knew very well; handing over a domain which cost about $15 at the time was the sensible path for me to take back then, and it didn't affect my business at all.)
The outcome of all this is that I am starting to think that this businesswoman does not seem to have proper procedures in place for running her businesses (which her blog posts constantly advise are huge businesses), but could easily do so by having a better understanding of how to do it.
I'm sharing this with you as a gentle reminder to look at your own business, practice and procedures – are you IN CONTROL of what's going on, each and every day in your business? Do you know who all your customers are? Do you have relevant records of sales? Can you contact one of your customers – quickly and easily? Do you have check-lists of every procedure for your entire business?
If you don't, it's time you started to get more organised – time spent doing this now will pay off further down the track, and save much time and angst. So – what're you waiting for? Go get organised
PS – what was YOUR answer to the question, "Do you keep track of sales and customers?" (more Business blog posts can be found here)
Cheers
Teena
Download Article Post to PDF
Tweet