In this edition of Your Biz Hot Tips, I show you Part 2 of Absolutely Easy Simple SEO

Today's tip is Part 2 of "
Easy Simple SEO
", which is a very simple way to create pages and blog posts on your website without knowing anything about SEO. No technical stuff to learn, no complex formulas to follow, no keyword research. If you'd like to read more, you can read
Easy Simple SEO Part 1
and
Easy Simple SEO Part 2
and and
Easy Simple SEO Part 3
.
Video:
Easy Simple seo Infographic (by Teena Hughes):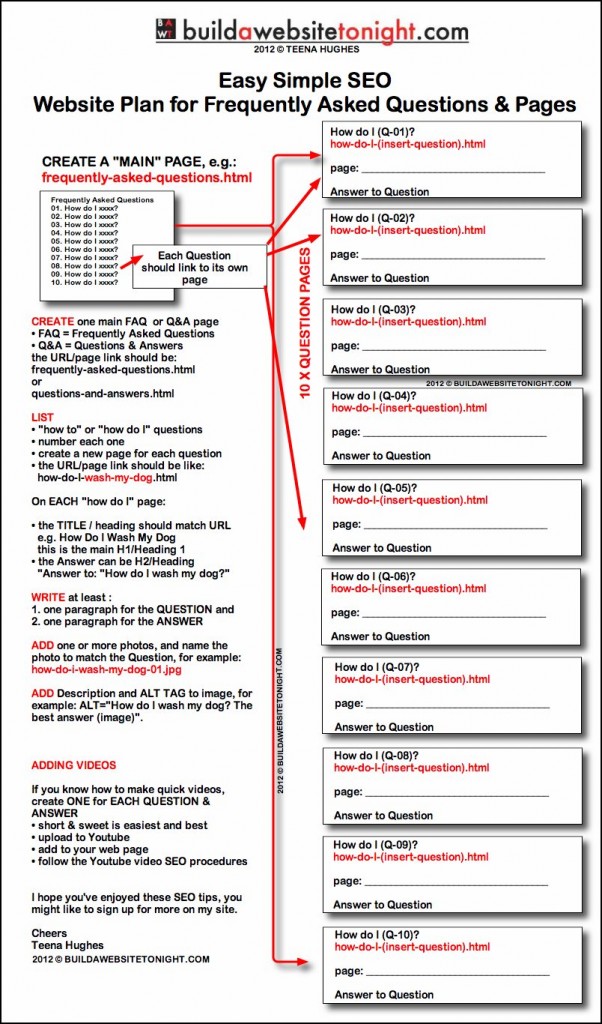 Transcript of Easy Simple SEO Video – Part 2
CREATE one main FAQ  or Q&A page
FAQ = Frequently Asked Questions
Q&A = Questions & Answers
The URL/page link should be:
frequently-asked-questions.html
or
questions-and-answers.html
LIST- Create a List of Questions
For example:
"how to" or "how do I" questions
number each one
create a new page for each question
the URL/page link should be like:

how-do-I-wash-my-dog.html
On EACH "how do I" page, make sure you have:
the TITLE / heading should match URL

e.g. How Do I Wash My Dog
this is the main H1/Heading 1
the Answer can be H2/Heading
for example: Answer to: "How do I wash my dog?"
WRITE at least :
one paragraph for the QUESTION and
one paragraph (preferably more) for the ANSWER – create a little story for folks to resonate with
ADD a photo for IMAGE SEO
name the photo to match the Question, for example:
ADD Description and ALT TAG to image, for example:

ALT="How do I wash my dog? The best answer (image)".
Description+"Have you asked, 'How do I wash my dog?' You've landed on the right page, let me help you "
VIDEO SEO
If you know how to make quick videos, create ONE for EACH QUESTION & ANSWER
short & sweet is easiest and best
upload to Youtube
add to your web page
follow the Youtube video SEO procedures.
I hope you've enjoyed these "Easy Simple SEO Part 2″ tips, you might like to sign up for more on my site. or read more SEO tips
Download Article Post to PDF
Tweet