Wondering How to Add a New User?
If you're one of my Clients and I've helped you set up your website and/or blog, at some point you might want to know how to add a new User. This could be for many reasons, some of which are:
the current Editor of your site/blog has changed jobs, or left the company
you need help with the writing and/or editing, and would like your Assistant to have their own login
you're too busy to write the blog, and want to hand over the reigns but maintain the leadership as original Editor.
Accessing the USER Admin section

Depending on how your site/blog is set up, you may or may NOT be able to see the button for USERS in the left sidebar after you login.
If you CAN'T see this button, please contact your website developer (the person who set up the site) or your I.T. group (if they created the website), and (a) ask for access to the User button so you can add more Users, or (b) ask for a new User to be created.  Let's assume you do have access, for the purposes of this instruction.
login to the website, you will now be in the Dashboard (Admin) area
scroll down until you see the USERS button in the left sidebar, and click it
you will be presented with a screen which looks similar to this: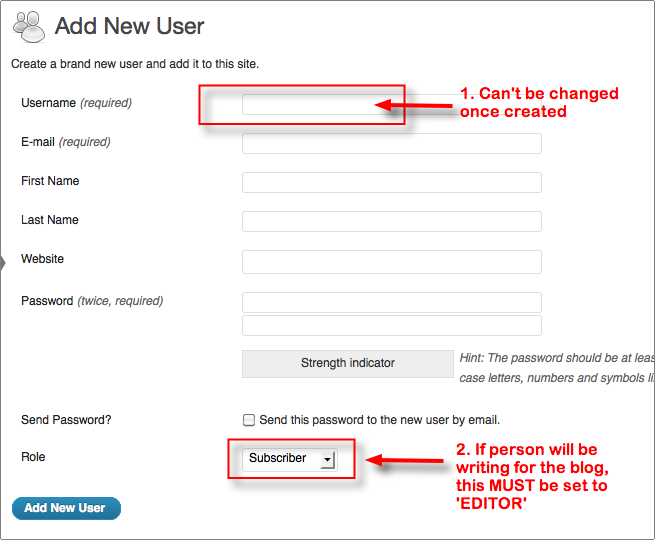 In the image above, you'll notice TWO major sections I've marked in red:
please ensure you create a sensible USER NAME as this will appear on every blog post written by this new User
you MUST set the "Role" to Editor so that this person can login to the Dashboard, and have the 'rights' to create blog posts
if you are using a website or blog created by me for you and your company, this is ESSENTIAL, as other functionality depends on the Author being flagged as the "Editor".
The Administrator Role
If you are using a website or blog created by me for you and your company, I provide my details when I create the site/blog, so that I will receive all email notifications relating to the successful set up. This is also useful if you require me to login and help you at any time, make changes etc.
If at any time you prefer to assign a different person as 'Administrator', please feel free to do so – but remember the User name is permanent and cannot be changed. If you will need me to login at any time in the future, you will have to create a new User name and provide me with Admin Role access in order to make changes for you.
Recommendation: It's possible to create a second Administrator, which makes it easier than deleting the original and recreating a new Admin role.
"
Our blog Author has left the company

– what do we do now?"

This is a common issue and easy to solve:
create a NEW USER, or
EDIT that person's Editor account by changing the :
nickname
display name, and
email name.
- but IF YOU DO THIS BE WARNED – all blog posts written by that person will now have a NEW PERSON'S NAME AS THE AUTHOR.
I highly recommend you CREATE A NEW USER.
"What happens next next after I learn how to Add a New User?"
As soon as the NEW USER is created (and you've clicked the checkbox to send them their new login details), they'll receive an email. They can then login as the New User, and all new blog posts will be accredited with their name (whilst they are logged in as this User).
I hope this has been helpful – if you have any questions please do drop me a note in the Comments below or contact me via the Contact form on the site – OR – send me an audio or video question from this page:
Download Article Post to PDF
Tweet