Knowing how to build a website is easier than ever. You just need an idea, and if you choose the right software, you can have a website built within a couple days.
Why build a website?
Building a website is a good way to keep in touch with friends and family. You can also build a website for commercial use or virtually any other reason you can think of.
Tips on how to build a website : Getting started
Figure out what you want your website to be about. You'll need to decide on the overall theme of the website and what it will entail. Completely dissect your idea and make sure that it is entirely feasible. If this is your first website, try to keep it basic.
Pick a domain name. Go to BuildAWebsiteTonight.com Domains and search until you find a domain name you like – preferable using your best keyword phrase.
The domain name you select should be related to your idea and overall theme of the website you want to build.
Take your time in figuring out your domain name, as it will have a wide ranging impact on the future of your website.
You can see if the domain name is available by entering into the box on the main page of BuildAWebsiteTonight.com Domains. If it's available, you can purchase it straight away. There is an annual fee to own a domain name and if you pay for more than a year in advance, the search engine robots love it
Building an e-commerce website is an inexpensive way to earn a residual income. Website businesses are no different that traditional businesses — both require careful planning in order to succeed. Unfortunately, website owners make the mistake of building an e-commerce website before having a clear plan in mind. This is a recipe for failure, as evidenced by thousands of abandoned websites.
Before building your website, have a thorough understanding of your online goals.
Early planning helps avoid mistakes when building your e-commerce website and increases your chances of establishing a profitable online business.
Before you build a website you should research the marketability of your services or products by using a keyword search tool such as Google Keyword Tool Box.
Keyword tools show how many searches your main keyword received each month; a low search count means the demand is small and not worth marketing. Find keyword phrases with higher search volume, but very little competition.
Visit your competition online.
Find out what services and features your company offers that your competition does not.
If the market is extremely competitive, it may be difficult to stand out and maintain a profitable online business.
Work out what you have or do better than your competitors – make that your marketing 'edge' – your unique selling point (USP).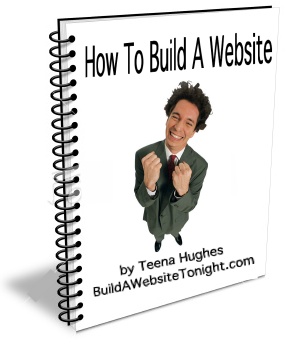 No matter what your objective, having a website provides you with numerous benefits. Many people use the Web to search for all types of information and, with a website, you can be one of the sources that they go to. You can build a site, even with no programming experience, and reach more people than ever before.
When you build a website it allows people to instantly access your information at any time of the day. Some folks do their best Web surfing at night and will not wait to contact you during regular daytime hours. Your site allows visitors to immediately find out who you are and what you do so make it interesting and not bland like a plain old brochure. Show some personality.
Websites are also an ideal method for conveniently reaching your audience. When you have new content, such as products or images, your newsletter subscribers will know about it if you let them know when new information has been published.
If you want to build a website, you might like to look at some of the video tutorials I've made to show folks just like you how easy it is to work on YOUR OWN site, instead of paying someone else to make changes and update it (when THEY'RE available, which might not suit you); so – take control of your website today! Other related posts for : build website.
Download Article Post to PDF
Tweet