Wondering why your marketing isn't working?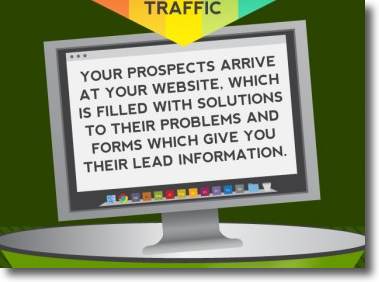 The solution might be something simple, like increasing the amount of mentions of your webpages across the internet.
In the snapshot at right (which is also part of the image below), is everything you need to know to be successful in business:
prospect lands on your website (from your ongoing traffic-generating strategies)
you provide answers and solutions for people who will want/need your product or service WHICH SOLVES PROBLEMS for them
you provide forms and incentives to capture their email name ("lead generation") so you can go back to them with more helpful info, tips etc over time
the ultimate goal is for them to become a customer/client
it's easier to sell those people an addition product or service to solve a different problem, than it is to try to find NEW customers.
This infographic below is called "How Inbound Marketing Works" and shows the difference between Outbound Marketing and Inbound Marketing.
If you look at the different types of inbound marketing, you might find something you haven't tried doing yet for your business.
.
.
Do you use the following types of social interaction in your marketing efforts?
blogging
searches for your products and/or services
social media marketing
email marketing campaigns
article marketing
press release marketing
tracking your website statistics to see HOW effective your marketing is – you do this on a regular basis to keep track — right? If you don't, then you should start a.s.a.p.
Let me know which techniques are your marketing favourites – I'd love to hear why you like them, too.
Download Article Post to PDF
Tweet