Why do SOME people online go out of their way to show a lack of customer service?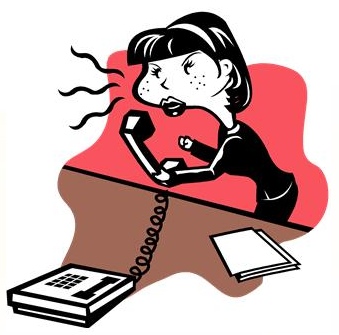 Over the past week or so I've had some great experiences with terrific customer service, and I let those folks know when they've done a great job. Just this morning I emailed with someone in the US who provided great after-sales service, and I asked for the office address so I could send a thank you card.
Later on today I experienced the OTHER side of the coin.
A lack of customer service
Today I was treated rudely by someone online and this brought me to a stand-still. The warm fuzzy glow of excellent customer service I'd been basking in soon disappeared, let me tell you.
So, who is this person who stole my "warm fuzzy" smile? This is a person who works for a company who was trying to encourage me to advertise with them, and they've been trying for months.
All the emails have been friendly, and I'd like to point out that I'd never heard of this company before they contacted me (they are in a different country). They were re-launching an old business and turning it into an online Directory and a print magazine; I told them honestly that this wasn't of interest to me, but the sales lady pursued me late last year.
In November, I was contacted again and told they'd like to 'feature' me in their magazine (for free) – both online and offline. All I had to do was submit a bio about my company, with URL and 3 photos; I knew this was to sweeten the deal, and they then hoped I'd like what I saw, and eventually agree to advertise with them. This was the wooing phase.
I sent off everything they asked for, and then … nothing, nada, zip, not a squeak. So I emailed a couple of times, and was advised they were all very busy getting the new magazine out, so I was patient and understanding. I asked if there was a possibility of getting the web page URL, or a PDF of the page I might be appearing on, and the lovely lady said she'd go one better – she'd send me a copy of the print version in the post. I was mighty impressed by her enthusiasm and offer.
Christmas came and went, and today they popped into my mind, so I chased up the last email I'd sent and asked if they still planned to send me a copy in the post; I also said I'd be just as happy with a website link or a PDF.
While I was waiting to hear back, I did what I should have done first – searched online – and yes I found the page. A bit of a shock – my business name was wrong, there were no photos, and no URL (even though two other articles on the same page had URLs), so I sent off an amendment to my email to say I'd found the page, and enquired about the wrong business name and lack of URL.
What happened next is still a bit of a surprise – I got an email reply from a new lady who said she had taken over this "marketing" position and my original contact Anna had gone. In no uncertain terms, I was told that as I was not a paying advertiser nor subscriber, I had no entitlement whatsoever to receive anything from them, as print magazines were only for their highest level customer. I was also told to remove their email name immediately from my mailing list and they would do the same.
I was so shocked at this lack of customer service, I wrote back to the lady and apologised for asking for an update on something which had been promised to me by her predecessor. I signed off in a professional and courteous manner, but that's not yet the end of the tale …
I know what it's like to be in a position with staff who may not be fully trained in the finer points of customer service, and it's possible this was someone new on the job, or someone who'd never had to write professional emails before. I forwarded the email to the Marketing Manager as I know how important it is to know how your staff deal with your potential paying clients, and this is when the final shock came.
The Marketing Manger replied along the lines that they would remove all records of me from their database and they had no intention of sending me anything, that I was entitled to nothing. The email went on to actually criticise me, though luckily I have thick skin
As I sat here pondering over this totally bizarre episode, I started to wonder if these two people working in another country were new to business, new to marketing, new to advertising, and most of all – new to customer service of any shape or kind. The responses I had from these two people were not professional, and did absolutely nothing to make me think any kind thoughts about their company whatsoever.
In my mind I got an image of sharks and had to laugh out loud – I realised they didn't care about the potential customer, they just cared about their commissions, and that it seemed no-one in their company was making them accountable for their contact with the public.
Will I tell 10 friends? Yes. Will they tell 10 friends each? More than likely. Good ole word of mouth.
Which brings me back to my original question, "Is there a lack of customer service online?" The answer is, "Yes and no." There will always be wonderful helpful folks and there will always be others who don't give a toss. Which one are you? What about your staff? Have you checked that they're sending thoughtful professional emails to YOUR potential customers? If not, it might just be time you started.
More info: http://en.wikipedia.org/wiki/Customer_service
Best Customer Service story EVER - no lack of customer service there.
Download Article Post to PDF
Tweet