One of the simplest things we can do as business owners is to say Thank You – to people who contact us via phone, email, blog or letter. They might be clients, potential clients, past clients – they might even be our competition or rivals.
I love sending Thank You cards – they create a wonderful impression in this email-frenzied world.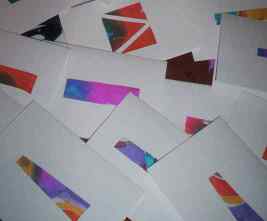 I make the cards myself from my handpainted silk, and handwrite in them. The people who receive them tell me how surprised they are, and tickled pink that I'd go to so much trouble. In all honesty, I can make them at night while I watch tv or listen to music, and I enjoy doing it.
To know they give so much pleasure is a bonus.
So, I can hear you asking … "Why bother?"
I'll tell you why – I have friends and business associates who tell me every now and then that they STILL have a silk card I sent them several years back, in prime position – in their office or home – and they think of me each time they see it.
Starting to get my drift? Wouldn't it be wonderful for your clients to get a warm-fuzzy-feeling every time they saw a lovely card you'd sent them? The best bit is it costs not much more than the postage, but has a longer lasting effect than you can possibly imagine.
Go on – off you go, buy some cute cards and send off at least 5 per week. Won't be long and you'll be sending off more, as you build relationships with your clients.
Have a gorgeous week!
Teena!
BuildAWebsiteTonight.com
Download Article Post to PDF
Tweet