Try this simple Website Marketing Plan
Step 1 – How to get your first 75 Website Visitors for free
Is your website like a town in the old Wild West with tumbleweeds rolling down Main Street and no-one to see them?
or view on Youtube: http://www.youtube.com/watch?v=gm4JvjcmVLE
Are you wondering why no-one's come to visit, and you're not sure how to get traffic?
Today I'm going to show you Step 1 of your new Website Marketing Plan using the quickest way I know of to get your first 75 website visitors (for free, people who follow your link to read more about what you do).
I'm going to tell you up front that you need to do this and the other Steps for 30 days (1 month0, to see any benefits.
I'll show you other steps to take, in upcoming Newsletters, and each one of these must be done for at least 30 days TO GET STARTED, and MUST BE CONTINUED if you really want to increase your website traffic without paying a cent.
The Plan I'm going to show you here is very simple, and if you follow it daily, it will definitely help you get 75 website visitors or more in no time!
Are you willing to stick to it, to give it a try? Good
Let's get started!
____________________________________________
Your Marketing Plan – Step 1 to Your First 75 Website Visitors
____________________________________________
For this marketing plan, we are going to use the first of several very simple way to bring traffic to your website.
This is so simple you may even enjoy doing it
The first method is …
Commenting on Blogs you enjoy
See, that didn't hurt a bit!
Now let's look at how to go about it in a way you've probably never tried before.
1. Creating a Google Alert for Relevant Blog Posts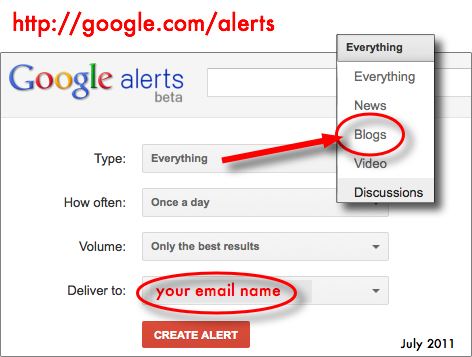 Go to http://google.com/alerts (this link will open in a new page for you so the instructions will still be visible).
You will be creating a Google Alert based on your keywords or topic of expertise, etc (e.g. dog grooming, corporate events, how to quilt, travel photography – whatever your interest is for your website).
Select "blogs" in the drop-down list.
In the "How Often" list, I choose "once a day".
In the "Volume" list, choose "only the best results".
In the "Deliver to" field, type your email name.
Click CREATE ALERT button. You're done!
TIP: If you would like the option to go back and edit these at any time, sign up and login when you need to make changes.
Example:
If you're interest in "llama leashes", type that.
If you're interested in "great barrier reef" or "scuba diving equipment", type that.
2. Reviewing the Google Alerts which arrive in your Inbox
Whenever you receive a notification email for your Google Alert, it will include a list of related blog posts.
Quickly scan through them and pick one (or more) which interest you.
Click the link to visit the blog.
Quickly read the post, and make a comment – it must be relevant, and interesting.
Include a link back to ONE of the webpages on your website, if you have a page which could ADD to the conversation (but not compete with the blog), add the link.
The idea is to be friendly, ask questions or offer good tips or suggestions, but don't make it look like an advertisement.
If your Comment is thoughtful and engaging, others reading that blog post might want to know a bit more about you and pop over to your site by following the link you left.
Make sure you have a CALL TO ACTION on your page – a free offer, a sign up box for your newsletter, something to engage them and to GET THEM TO ACT on. If you don't, then there's no point bringing visitors to your site if they can't work out WHAT YOU WANT THEM TO DO when they get there. OK, get cracking
3. What to do next
If you've found this relatively painless and easy, continue to do this every day.
If you're feeling really adventurous and it hasn't been too time-consuming so far, go ahead and create ANOTHER Google Alert for a similar phrase.
Do steps 1 and 2 over and over and over again
If you're feeling great about your new plan, create a list or spreadsheet of the blogs you've posted comments on. When you check your website statistics, you'll be able to see if anyone has come via your blog commenting efforts, and if they have – mark that on the sheet (with a Y for Yes!).
I do hope you've enjoyed today's lesson – let me know how you get on, I'd love to hear your results.
Sumary of Website Marketing Plan – Step 1 – Posting on Blogs with comments
gets your name known
you start to build a reputation for offering excellent tips, suggestions, answers on other websites
your URL (web page link) is shown, which creates a network of backlinks for your site, essential for search engine optimisation
people follow your links back to YOUR site, follow your Call to Action to sign up / download / read more information
these new followers get to know you better, start to like and respect you … and become your own community of followersa win-win situation which can't be created on auto-pilot, requires the personal touch, with your thoughtful and helpful comments and answers on other blogs.
What's next?
The next article will have another simple process you can use to get more traffic and continue your quest to get your first 75 website visitors in 30 days. You'll be doing this AS WELL AS the Google Alerts.
Have fun!
Stay tuned for the next in the Series "How to get your first 75 Website Visitors"
If you like this article about your website marketing plan and would like to learn more about websites and the internet, sign up for my YOUR BIZ HOT TIPS Newsletter by filling in the form on this page, or pop over to my main website http://BuildAWebsiteTonight – or pop over here >>
.
Download Article Post to PDF
Tweet