Try this simple Website Marketing Plan

Step 2 – How to get your first 75 Website Visitors for free using this tip
Bravo! You're about the read one of the easiest ways to use this Website Marketing Plan! If you have already read the first in this series - Step 1 - and enjoyed it, you'll find today's tip very easy to do for your website.
Today's task involves backlinks, which simply means a link from someone else's website to yours.
FULL INSTRUCTIONS in the video AND listed below the video:
To watch the video on Youtube: http://www.youtube.com/watch?v=JRqt2Vu7MOQ
My tip for you is to sign up with a f-r-e-e service which distributes the URL (link) for individual website pages or blog posts. This is known as a BACKLINK STRATEGY.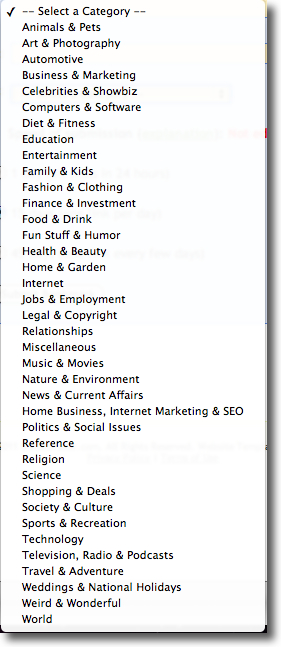 All you need to do is:
write a web page or blog post (or decide on one which has already been created
create an account at http://IMAutomator.com
sign in, click TOOLS in the top menu bar

click the "Bookmark Submitter" button

a new screen appears.
Please note you can submit TEN BOOKMARKS PER DAY for your Website Marketing Plan
copy the URL for ONE of your current website pages or blog posts
paste the URL into IMAutomator form (as shown above)
click the button to automatically "extract Title Description & Tags"
check that you're happy with the results

note – if you have not done the SEO for your page or post, no results will appear; this is not good – you need to go to the page/post and add the SEO details for the page

select the "Category" button – choose from the categories (current list shown here)
choose "Speed of Submission", which means how quickly the links will be posted – ALWAYS use the 15 day setting – ALWAYS, so that the link building looks natural, rather than automated
click the "Submit Bookmark" button
you're done!
That wasn't very hard, was it?
Fantastic!
Now do the same for other website pages or posts on your site – you can do up to 10 pages per day.
I'd love to know what you think about this very easy way to create backlinks for your site – drop me a line, send me a note, tweet or post on Facebook so we can chat.
Have fun! Stay tuned for the next in the Series "How to get your first 75 Website Visitors"
Website Marketing Plan – Step 2 (this page)
If you like this article about your 
website marketing plan
 and would like to learn more about websites and the internet, sign up for my YOUR BIZ HOT TIPS Newsletter by filling in the form on this page, or pop over to my main website
http://BuildAWebsiteTonight
 - or 
pop over here >>
Download Article Post to PDF
Tweet